First Hainan International Jazz Festival Exceeds All Expectations
Shanghai,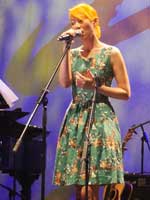 From October 24 to 27, the Hainan International Jazz Festival was held for the first time ever at the beautiful Sheraton Haikou Resort.
Privately organized by h&m Productions Asia Co. Ltd. and supported by Hainan and Haikou authorities, this new kind of international events shall enhance the visibility of Hainan Island around the world.
The glamorous opening Gala with 400 invited Guests was marked by the Opening Speeches of Michael Lehmann, Executive Director of the Festival, Ulrich Hunn, Consul General of Switzerland in Guangzhou, and Deng Xiao Gang, Executive Vice Mayor of Haikou City, all three of which praised the importance and impact of such international high profile events on Hainan Island. The opening concert of this Blue Carpet® event was given by Taiwanese Star Joanna Wang, followed by an outstanding performance of Pascal Schumacher Quartet from Luxembourg.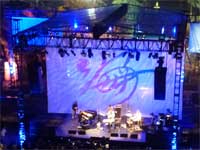 The second day was marked by a master-class given by the Swiss French Group No Square, who gave in the evening the first Concert, right before Wilson Chen from Shanghai.
The one of a kind see-through stage - which was built by Langzhu Exhibition Shanghai Co Ltd and Sino Events Asia Co Ltd and fully integrated in the beautiful garden environment of Sheraton Haikou Resort - inspired the Artists together with the mild temperatures and the star-filled sky over Hainan. And Swiss Sound Engineer Antoine Estoppey further enhanced this exceptional musical experience for totally close to 5000 Festival visitors.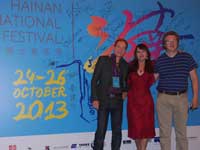 On the third day, a master-class and a great concert of Reija Lang Trio from Finland, as well as the jazz fusion concert of bconnected from Switzerland, who integrated Chinese traditional songs into their world-jazz, fascinated the public.
The overwhelming reactions of the visitors and the artists, but also the promised support of the authorities encourages the organizer to plan more Blue Carpet® Festivals on Hainan and in China.
Thanks to our partners & sponsors